Recommended Books #1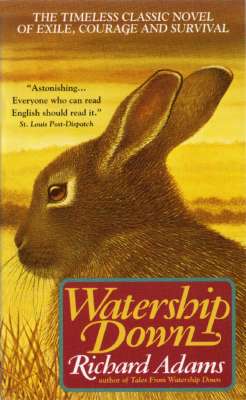 Watership Downby Richard AdamsGeneral Description:
This is a great book about a rabbit named Fiver who has a vision about their happy warren being destroyed by a tractor, so he persuades his brother and a small group of rabbits to leave and begin a long, perilous journey in search of a new warren. When a serious problem arises (they are all male and have no doe's to procreate), they set off in search of females and stumble upon a very different warren run by a dictator named General Woundwort.
Grade Level Suitability:
6-7
Links to BC Curriculum:
This book would fit in very well to grade six and seven social studies "Politics and Law". Analyzing this book could lead to discussions on different types of government (comparing different warrens with different forms of government like democracy, totalitarian regimes, and communist or utopian sociteies), society in general, law, rules, and the meaning of freedom.
The Sign of the Beaverby Elizabeth George SpeareGeneral Description:
This book is about a 13 year old boy left alone to fend for himself at the newly built family home deep in the Maine wilderness, while his father returns east to collect the rest of the family. The story takes place in the 18th century and is a great survival story, but it is also a story of friendship and clashing cultures. When Matt is rescued by a First Nations chief he agrees to teach the chief's grandson, Attean to read. At first, the two are wary of each other but they become friends and learn from each other. As Matt teaches Attean to read, Attean teaches Matt about his culture and how to survive in the wilderness.
Grade Level Suitability:
3-5
Links to BC Curriculum:
This book would fit in very well to the Grade 4 social studies curriculum "Society and Culture" describing how people's basic needs are met in a variety of cultures, and demonstrating an awareness and appreciation of various Aboriginal cultures.
Where the Red Fern Growsby Wilson Rawls
General Description: A definite classic and favorite of mine growing up. This book is about a young boy growing up with his family in the Ozark Mountains during the Great Depression. Like most young boys, Billy has a passion for dogs and asks his parents to buy him one. Of course they are in no position to do this, so after Billy sees an ad in an old magazine selling Coon Hounds for $50 he begins working to save up enough money to buy them. Finally he earns enough money to send away for two puppies. Billy and his dogs have all kinds of adventures together as he moves from boyhood to adulthood. This book probably will appeal more to boys than girls, but it is heartwarming tale that I think anyone can relate to (especially dog lovers).
Grade Level Suitability: 5-7
Links to BC Curriculum: Language Arts (Engagement and Personal Response), a great book for a literature circle.
The BFGby Roald Dahl
General Description: This is a great book that I was just exposed to in our last practicum. The book is about a little girl named Sophie who is taken from her bed at the orphanage by the Big Friendly Giant and brought to Giant Land, where the two become fast friends. Sophie also learns about the evil human eating BloodBottlers who plan to invade England and the World to eat children. It is up to Sophie and the BFG to stop them.
Grade Level Suitability: 4-5. I read this book as a read aloud to Grade 3's and they absolutely loved it and laughed out loud. Kids of all ages could enjoy this book, but if they are going to read it themselves I think grade 4-5 would be good.
Links to BC Curriculum: Language Arts-Engagement and Personal Response, Comprehension. Like I said, an awesome book for a read aloud.